By Jeannie Watt
In my December book, Crossing Nevada, the heroine learns to sew as a coping mechanism to reclaim her life after an assault. It wasn't something I'd planned when I first outlined the book, but I needed a way for the heroine to connect with the hero's daughters and sewing seemed like an excellent way to bring everyone together.
I used to sew a lot. I made clothes for my kids, for my husband, for myself, but after selling my first book in 2006, I had less free time, so my sewing machine—once the center of my world—began gathering dust in the basement. Then a friend invited my husband and me to a Dicken's Christmas dinner and we had to wear Victorian costumes. My husband borrowed a costume, but I had to make mine. It was a rush job and nothing I was too proud of, but it felt good to be sitting at my trusty Kenmore, grinding out a garment. I decided that I needed to squeeze more sewing time into my life. But I wanted to sew something interesting, so I made a command decision and told the family we were going to Dicken's Fair in San Francisco.
It took me six months to make four costumes in my spare time, including two wool frock coats. Just as with my writing, there were times when I wondered if I'd ever get done, but then, suddenly, it was all over. I was done. And I needed a new project. Something that didn't involve taffeta or crinoline--at least for a while. I decided to take a break from the Victorian era and move forward about a hundred years--to the 1950s..
I've been collecting old patterns and now I'm going to make a few. My first is a coat from 1956. I bought some plaid wool that looks 50ish and plan to start sewing next week. Hopefully I'll be done before winter is over.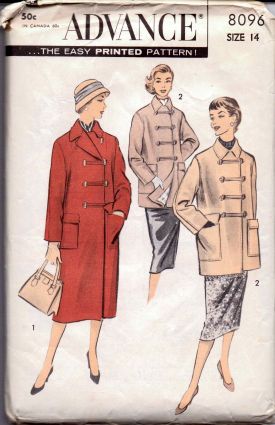 When I'm done with the coat, I'll start on this great dress from approximately the same time. If it doesn't look ridiculous, I may wear it to RWA Nationals. I'll know in a month or two whether it's worthy of a public showing. I'll post a picture or two in a future blog--even if the projects don't turn out. Whether they do or not, it'll be a learning experience and that's exactly what I'm looking for.