Ho ho ho! by Mary Brady
With the Christmas season in full swing, love is truly all around us, so let's talk about favorite things.
For me, first there's candy!
I love candy.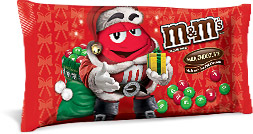 If candy didn't give me a stomachache when I eat too much, make me put on pounds in all those wrong places, threaten health problems and make me embarrassed to get caught eating it all the time I'd—er—eat it all the time.
During the holiday season, I eat it more than any other time of the year and it's not what you think. I eat it more, not because it's more available, but because I can give myself more reasons (excuses) to celebrate and thus eat candy.
So, here are some of my favorites for Christmas. Chocolate covered cherries. Well, chocolate covered cherries. Hmmm I can already see a pattern here. Okay, so other than CCC's, most of my other Christmas favorites are just the usuals wrapped in red and green. I just give myself permission to eat them when they wear the colors of the Christmas holidays.
The second thing I just love are the lights. Any color. Blinking and not blinking. In animal shapes, star shapes, tree and present shapes, free-form, icicles, Santa and his reindeer, I'm not particularly picky. I just like them when they light up the long nights. Nothing like a small super nova of twinkle lights to warm one right up.
I like presents, but the third thing I love about the holiday is (not cookies, I'm gluten free) the idea of elves. No really, I like the cheer. It's not present all the time and not in everyone, but it's there so often that it's something to behold. Christmas movies rarely end sadly. The decorations rarely depress anyone. And with enough rum egg nog is even uplifting.
Smell the pine, eat a chocolate and smile.
Enjoy your particular holidays and share with us what you like best about yours.